Refer a friend and be rewarded!
Simply tell another farmer (or 5!) to sign up to Herdwatch and when they do, we will give you a choice of Herdwatch goodies as a reward. It's a Win, Win!
If you are a Herdwatch member and want another farmer to benefit from easy farm management, you can get rewarded for referring that friend to Herdwatch through our new rewards scheme.

Once you know your friend has signed up to Herdwatch you can fill out the form on this page and pick out your free goodies!
The more friends you refer to Herdwatch, the more rewards you get!
Its as simple as this:
Recommend Herdwatch to a friend (they need to sign-up to our FREE or PRO plan) & download their herd to the app.
Once your friend has downloaded Herdwatch & created their account, fill in the form on this page telling us who you referred
Each friend you refer is worth 30 points (more points, more valuable rewards)
We will then check they are indeed signed up and send you out your rewards!!🎁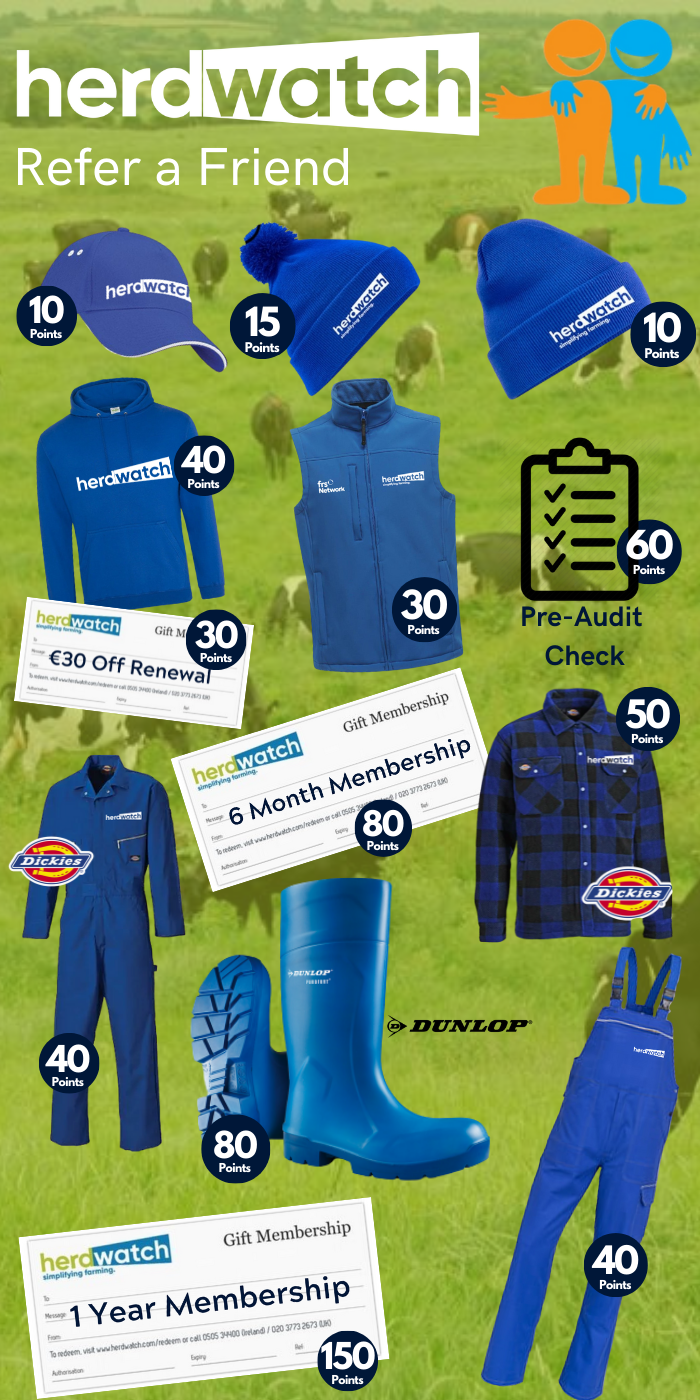 How the points system works:
Each referral is worth 30 points
Add your points up at the end
Pick from the rewards once it doesn't exceed the points gained.
Example: You refer 3 friends. This means you have gained 90 points. You can get a few combos such as -
3 Sleeveless Herdwatch jackets or,
1 pair of Dunlop wellies & a Herdwatch hat or,
A Herdwatch chilly bottle, €30 off your next renewal, a ticket to the National Ploughing Championships 2021 & a Herdwatch hat.
And the list goes on........Now get referring!