Verified by Herdwatch allows you to advertise your animals simply on a trusted platform. Bringing peace of mind to farm to farm sales.
'Verified by Herdwatch' lets farmers share verified animal information including age, breeding, movements, weights & more with other farmers on Herdwatch.
Farmers can now bro
wse
through anima
l listings directly on the Herdwatch App to over 17,000 other farmers.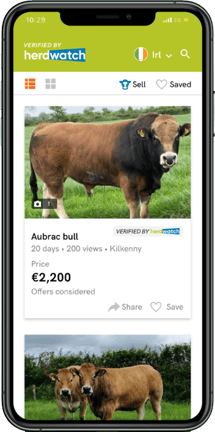 Once you have your animals in Herdwatch you can

simply select the animal you would like to sell, all of the animals key details will be provided by the app

and all you have to do is simply name your price or indeed open yourself to offers.
Sharing this key animal information with other farmers will help i
ncrease the value of animals
by using data to prove their history and
help buyers simplify their purchasing decision
, without having to ask for more
information or wasting diesel going to see animals without the facts or knowing what they are really going to see.
How does it work?
It couldn't be easier:
Create a 'Verified Ad' using the 'Orange plus' button.
Select the animals you want to sell.
Attach a picture of your animal.
Input your headline & description.
Set your price or open yourself to offers!
The 'Verified by Herdwatch' feature will let farmers share information such as
Breed
Age
Farm residencies (Number of Movements)
Days on farm
Quality Assurance status
Last TB test
Weight
Number of animals for sale


The information on the Herdwatch listing will contain the most up to date animal information meaning that a farmer will have complete confidence on the animals they are purchasing.
Find out more
If you would like to find out more about this new service contact our team or go to the Frequently Asked Questions page.
Create your first Verified Ad or Explore the Verified Page by tapping the button below!

IMPORTANT: The 'Verified by Herdwatch' feature is available to all members on the Herdwatch PRO Essentials & Complete plans. Go to our Frequently Asked Questions page for more information.